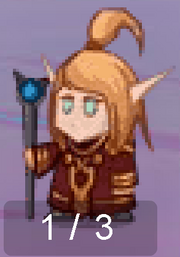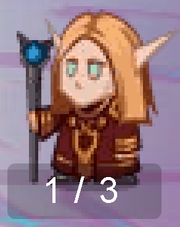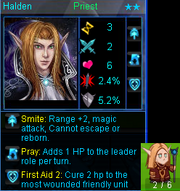 Abilities
Edit
Smite: Range +2, magic attack, Cannot escape or reborn.
Pray: Adds 1 HP to the leader role per turn.
First Aid X: Cure X HP to the most wounded friendly unit (2 for White/Green/Blue/Purple, 3 for Gold)
Alcon Mages (heroes that have Build stat as highest stat) are Priests .
| | Time | Atk | HP | Crit | Parry |
| --- | --- | --- | --- | --- | --- |
| White | 3 | 1 | 3 | Tech | Build |
| Green | 3 | 1 | 4 | Tech | Build |
| Blue | 3 | 2 | 6 | Tech | Build |
| Purple | 3 | 2 | 8 | Tech | Build |
| Gold | 3 | 3 | 12 | Tech | Build |